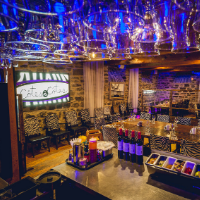 Restaurant
In the heart of the historical district of Petit Champlain, the Côtes-à-Côtes restaurant offers a unique culinary experience for your Christmas party. The only problem you may have is choosing from our many choices of "à la carte" options! We organize the evening according to your needs: private room, drink, menus, late evening. Be sure to keep memorable memories of your Christmas at Côtes-à-Côtes Resto-Grill!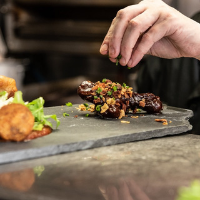 Caterer
This year to celebrate Christmas, give your colleagues the gastronomic experience Côtes-à-Côtes. We offer several choices of menus, including cold and hot buffets, classic and traditional meals as well as a cocktail dinner. We will conquer the taste buds of your 25 to 250 guests while respecting their dietary restrictions. At Côtes-à-Côtes, allergies and intolerances are treated with the utmost seriousness. The magic of receiving without worrying about food!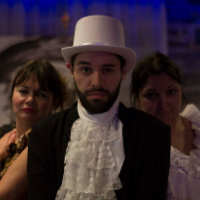 Murder and mystery
In partnership with Promas Animation and Pierre Hamon the mentalist, we offer 3 interactive shows to spice up your Christmas party. Juggling between theater, multimedia and illusionism, rest assured that pleasure will be there! During the time of a murder mystery night, you can become a character and get out your acting skills or simply enjoy a meal suspecting your colleagues. Can you solve the plot?