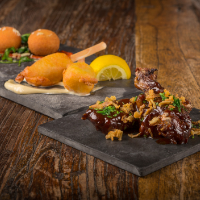 Christmas Caterer
This year to celebrate Christmas, give your guests the gastronomic experience Côtes-à-Côtes. We offer several choices of menus, including cold and hot buffets, classic and traditional meals as well as a cocktail dinner. We will conquer the taste buds of your 25 to 250 guests while respecting their dietary restrictions. At Côtes-à-Côtes, allergies and intolerances are treated with the utmost seriousness. The magic of receiving without having to cook!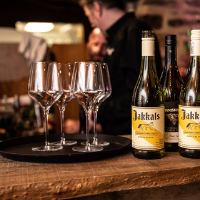 Cocktail Dinner
It's your turn to receive? Are you celebrating an anniversary or any special occasion? Create a friendly atmosphere by serving a multitude of cold, hot, salty and sweet Côtes-à-Côtes appetizers. In addition to the judicious selection of these appetizers you also have two choices among Mac n 'Cheese, Poutine 3 ways, Wings style duck drumsticks and Tartare. The staff costs are included: you will enjoy your evening!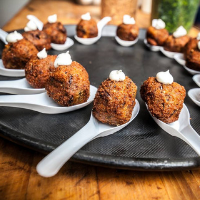 Banquet & Catering Menu
For your receptions and your professional events, the catering service Côtes-à-Côtes combines ease and speed without forgetting the "wow" effect. Find all the pleasures of gourmet cuisine in a restaurant with "à la carte" menu or choose the simplicity of the buffet! No matter which formula you select, we will never disappoint our guests.